About the Author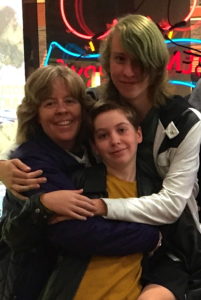 A mom of two boys, Kirsten spends the vast majority of her time thinking about, worrying about, and actually caring for Dylan and Shane.  She also works as an Interim Instructional and substitute teacher for public schools.
Kirsten is married to a wonderful man who spends his days working hard so that his family will do more at home than he does.
The family lives in the suburbs of Washington, D.C. And, just so her kids will have a positive role model, Kirsten also plays softball, goes to church, walks the dog and rides her 10-speed as time allows.
Occasionally she has lunch with other moms who, like Kirsten, prefer the company of their children to the company of most adults …. except when the kids are screaming, bouncing on the furniture and pushing each other into sharp corners.
Then, Kirsten goes to the movies.